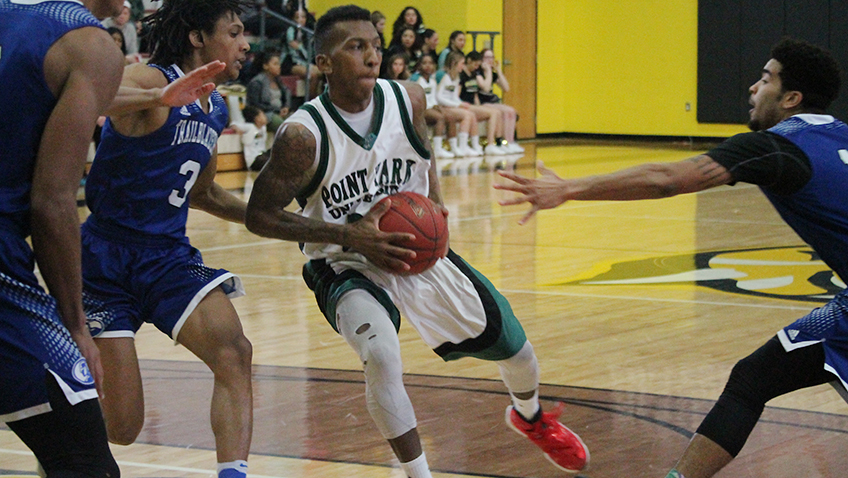 Rushan Roberts tries to get through the OCU defense on Saturday. Photo by Sam Robinson.
WEST MIFFLIN, Pa. -- Ohio Christian University proved that it can win from the outside and the inside with Saturday's 96-78 victory over Point Park University in a River States Conference men's basketball game at CCAC-South Gym.
Ohio Christian (15-12, 9-5 RSC), which beat Point Park (8-16, 5-9 RSC) earlier this year by making a season-high 23 3-pointers, did things with an inside job in Saturday's road win.
The Trailblazers had their post players score a lot of points and do so at a high efficiency to key the victory. Forward Gary Hoover, the RSC rebounding and field-goal percentage leader, had a huge game of 26 points, 15 rebounds and 12-for-16 shooting from the field.
Teaming up with Hoover to provide a combined 50 points from the main frontcourt players were teammates Carmearl Thomas with 13 points (5 for 6 FGs) and Rijnard Hartman with 11 (5 for 6 FGs). Those three players were a combined 22 for 28 from the floor.
It was a close game until the second half when Hoover and company started to go to work down low. Point Park was within 41-37 at the half, but OCU shot 62 percent (21 for 34) the second half to take control.
Point Park made sure it was not sunk again by the Trailblazers' outside attack, one of the top perimeter offenses in the conference. OCU guard Marquis Jackson (23.7 ppg), the RSC leader in scoring and made treys, did not make a 3-pointer the first 32 minutes. He was held in check for just 11 points -- 13 below his average -- on 4 for 12 shooting and 1 for 8 from deep.
Point Park shot a decent 40 percent from the field, but its shots did not come as close to the basket as that of the Trailblazers. The Pioneers did not have the jumpers falling as it did in Friday night's win over No. 7-ranked IU East.
Gavin Rajahpillay had a team-high 16 points and four assists for the Pioneers. The bench had Rushan Roberts with 12 points and Asim Pleas with 11. Contributing nine points each were starters Jaylen Mann and Lassana Konate.
Point Park was still within striking distance at 68-57 with 10:30 left. But that's when OCU started to pull away with the concentrated inside effort.
Guard Jalen Hearn added 14 points for OCU with all of those the second half and most after the lead was wide. OCU controlled the rebounds, 49-32. Point Park made just five turnovers and shot 28 for 70 from the floor.
Point Park remains in fifth place in the RSC East Division and needs to get to at least fourth place to make the conference playoffs. The Pioneers have three RSC games left beginning at Carlow on Feb. 7.